Park Hyatt New York Marks Grand Opening with InvoTech RFID Staff Uniform Protection
Wednesday, September 17th, 2014 at 9:54 am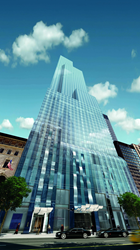 LOS ANGELES, CA (PRWEB) September 09, 2014
When Manhattan?s newest luxury hotel, Park Hyatt New York, opened its doors on August 19, InvoTech Systems, Inc.'s UHF-RFID Uniform System was already at work behind the scenes to maintain garment quality. InvoTech managed installation of durable RFID tags in the hotel?s 4,000 uniforms and recorded garment assignments prior to opening to simplify property operations.
The InvoTech Uniform System reduces labor expenses associated with manual garment handling and increases employee accountability with automated uniform tracking. Click here for more information on InvoTech?s Linen, Uniform, and Laundry Systems.
InvoTech installs automated system at 38th Hyatt property–"a celebration of luxury"
?Park Hyatt New York is a celebration of luxury, refinement and art in Manhattan. The property?s uniforms play an essential part,? said Oswald Lares, director of sales for InvoTech Systems. ?Park Hyatt New York is the 38th Hyatt property to install our system to manage uniform operations, laundry, and distribution.?
RFID technology maintains a real-time inventory from distribution to laundry
Park Hyatt New York?s InvoTech system interfaces with a White Conveyors U-Pick-It System that automates uniform distribution and quickly delivers the correct garments to Hyatt staff. The InvoTech Uniform System integrates UHF-RFID readers that scan durable waterproof UHF-RFID laundry tags for automated tracking and recordkeeping. Tags are attached to the uniforms before they were delivered to the property to make the system implementation and employee uniform fittings as smooth as possible.
Handheld reader counts hundreds of articles in seconds
To maximize accurate uniform tracking and inventory efficiency, Park Hyatt also utilizes a wireless UHF-RFID handheld reader with InvoTech mobile software to count hundreds of articles in seconds. InvoTech records the location of each garment ? whether in the laundry or retrieved by a staff member ? to maintain a real-time uniform inventory. InvoTech software records uniform use and laundry cycles to forecast replacement requirements for accurate budgeting and uniform quality. InvoTech?s on-site services help ensure the property can realize the maximum ongoing cost-saving benefits.
With a premier address on West 57th Street, Park Hyatt New York is nestled among many top destinations and faces the world-famous Carnegie Hall across the street. The property aims to raise the standards for style and sophistication in New York luxury hotels. Personal touches inspire ambiance, artwork, dining, and d?cor.
Other InvoTech clients include MGM Resorts International, Ritz Carlton, Hyatt Hotels, Marriott, Hilton Hotels, Universal Studios Florida, Madison Square Garden, MSR-FSR Laundry, Empire State Building, Loews Hotels, Mandarin Oriental, and other leading companies. InvoTech?s international clients include Four Seasons Macau; Grand Venetian Macau Resort Hotel; MGM Grand Macau; Hyatt Shanghai, China; Burswood Entertainment Complex, Australia; Sheraton Seoul, Korea; Resorts World Sentosa Singapore; and Palace Resorts, Mexico.
About Park Hyatt New York

Park Hyatt New York opened August 19, 2014 as the flagship hotel of the globally recognized Park Hyatt brand. Designed by Pritzker Prize-winning architect Christian de Portzamparc and with Yabu Pushelberg at the helm of interior design, the hotel?s 210 luxury guestrooms are modern with a slight nod to the past, evoking an eclectic, residential aesthetic. Park Hyatt New York guests benefit from the hotel?s prime location across from Carnegie Hall and within walking distance to Central Park. The property also allows the best local New York artists, chefs, interior and fashion designers, musicians and collectors to showcase their specialties for the ultimate guest experience. New Yorkers and worldwide travelers alike enjoy an exquisite bar; gourmet culinary offerings; and a phenomenal spa, fitness center and indoor swimming pool.
About InvoTech Systems

InvoTech Systems, Inc. increases profitability for clients. It is a leading provider of software management and control systems for uniforms and linens, and for laundry and security operations. Served markets include hospitality, healthcare, commercial laundry, and amusement industries worldwide. InvoTech products deliver vital information that establishes ultimate control and total accountability. InvoTech solutions are reliable and easy to use. They streamline operations and improve service levels with reduced labor and operating expenses. InvoTech provides 100% of its system support and product development in-house. The firm?s trusted staff averages 10 years of reliable technical experience, knowledge of methodologies, and industry depth. InvoTech is a Microsoft Certified Partner that evolves technology-based solutions regularly based on client- and staff-driven innovations. The company is rooted in a culture that emphasizes long-term client relationships and superior customer service. For more information, please visit http://www.invotech.com.
Exchange ideas and connect with InvoTech on Twitter, LinkedIn, Facebook, and Google+.
Tagged with: GRAND • Hyatt • InvoTech • Marks • Opening • Park • Protection • RFID • staff • Uniform • York
Filed under: Budgeting Software
Like this post? Subscribe to my RSS feed and get loads more!