CAF Takes Action Regarding Proposed FAA Rule
Tuesday, September 2nd, 2014 at 9:54 am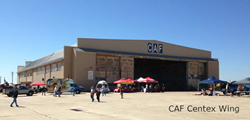 Midland, TX (PRWEB) August 28, 2014
The Federal Aviation Administration (FAA) proposed a new policy on July 22, 2014, to address the non-aeronautical use of airport hangars. A summary of the proposed Non-aeronautical Use of Airport Hangars rule stated on the regulations.gov website reads, ?Under Federal law, airport operators that have accepted federal grants and/or those that have obligations contained in property deeds for property transferred under various Federal laws such as the Surplus Property Act generally may use airport property only for aviation-related purposes unless otherwise approved by the FAA. Compliance inspections by FAA staff, as well as audits by the Government Accountability Office, have found that some hangars intended for aircraft storage are routinely used to store non-aeronautical items such as vehicles and large household items. In some cases, this storage interferes with?or entirely displaces?aeronautical use of the hangar. Moreover, many airports have a waiting list for hangar space, and a tenant's use of a hangar for non-aeronautical purposes prevents aircraft owners from obtaining access to hangar storage on the airport. At the same time, the FAA realizes that storage of some small incidental items in a hangar that is otherwise used for aircraft storage will have no effect on the aeronautical utility of the hangar. The FAA is proposing a statement of policy on use of airport hangars to clarify compliance requirements for airport sponsors, airport manager, airport tenants, state aviation officials, and FAA compliance staff. This notice solicits public comment on the proposed policy statement.?
According to Stephan Brown, president and CEO of the Commemorative Air Force, ?the CAF and many other non-profit aviation museums around the country exhibit static and flying aircraft in hangars for the purpose of education. However, many non-aeronautical items are also displayed in order to tell these stories. Additionally, food service, merchandise and other revenue-producing operations occur that are supplementary to education and crucial to the business operations of aviation museums. In addition, the CAF?s 60 unit locations, along with hundreds of other aviation museums, experimental, limited and standard category aircraft undergo multi-year restoration efforts – this new rule would threaten those efforts. The CAF is requesting an extension of the comment period on the proposed rule for non-aeronautical uses of aircraft hangars in order for more comments to be registered and for the FAA to delve deeper into the unintended consequences of this proposed rule.?
The Commemorative Air Force will continue to coordinate with the responsible government agencies as well as track this situation because of the potential direct impact to the organization?s operations. To bolster the organization?s efforts, the CAF has made requests to its membership and supporters to voice their concerns about the potential impact of this proposed rule via public comment. Those wanting to voice their opinions must do so before September 5, when the public comment period ends.
The CAF?s official statement requests the policy clearly establish aviation museums/static aircraft displays, aircraft building/restoration, non aviation historical/educational supporting artifacts, signs and other museum support functions such as food and beverage operations, as an approved aeronautical purpose. The statement goes on to say ?all of our hangars are used for storing, restoring and performing maintenance on our flying aircraft, as well as museum educational operations. Within some of the larger hangars, they maintain artifacts associated with the history of the airplanes, the wars and battles associated with the era and use them to tell the story about the role of the aircraft and the men and women who flew them to preserve our peace and that of our allies. In some cases we maintain multiple hangars and buildings as a campus, some of which are for the interpretive displays and viewing of artifacts by the public. In all cases, the focus is on our educational mission, as a flying museum and we display the static elements as supporting and necessary elements of the total story and history.?
Aviation enthusiasts and members of various aviation organizations have posted over 700 comments. Several comments expressed concern regarding restrictions affecting the early stages of the homebuilt aircraft projects. ?With the comments mounting and actions being taken directly with government agencies, the best outcome would be an industry meeting with the FAA to be sure they understand the concerns and possible impact on aviation non-profit organizations and museums,? concluded Brown.
Comments may be placed by visiting the following link: http://www.regulations.gov/#!documentDetail;D=FAA-2014-0463-0001
In 1957, a small group of ex-service pilots pooled their money to purchase a P-51 Mustang, beginning what is now called the Commemorative Air Force (CAF). With the addition of a pair of F8F Bearcats, the CAF became the founders of the Warbird Movement, an effort to preserve and honor our military history with the rallying cry to ?Keep ?Em Flying!? Nearly 60 years later, the CAF is the premier Warbird organization, with a fleet of 162 vintage aircraft. A non-profit educational association, the CAF has more than 12,000 members and its fleet of historic aircraft is distributed to more than 80 units located in 26 states. For more information, visit http://www.commemorativeairforce.org or call (432) 563-1000.
Tagged with: Action • Proposed • Regarding • Rule • Takes
Filed under: Money Management
Like this post? Subscribe to my RSS feed and get loads more!