CyberPower Systems Partners with D&H Distributing As A Key Power Protection Vendor for D&H?s Solutions Lab Program
Friday, August 29th, 2014 at 9:52 am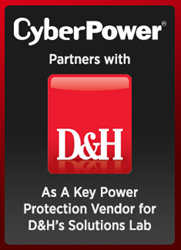 Minneapolis, MN (PRWEB) June 04, 2014
CyberPower Systems (USA), Inc., a global leader of innovative power protection and power distribution equipment for data center and SMB environments, announces that it has partnered with D&H Distributing to be a preferred power protection and power distribution solution vendor for the D&H Solutions Lab.
D&H?s Solutions Lab offers resources for resellers, including the distributor?s Solutions Specialist Team, a group of subject-matter experts that are at the disposal of D&H customers. The distributor develops trainings and seminar opportunities about topics and technologies that are relevant to the channel, including optimal power protection solutions. CyberPower Systems is sponsoring custom-designed presentations to be broadcast through D&H?s high-tech Solutions Lab. In addition, the Lab program offers marketing and sales support, targeted trade show sessions, and more. Customers can find a link to the Solutions Lab page on dandh.com under the ?Business Resources? tab in the left-hand menu to access this new content as it is developed.
In addition to CyberPower Systems, D&H maintains Solution Specialists that are respectively dedicated to Cisco, Microsoft, Intel, Lenovo, Buffalo Technology, D-Link, Lenovo, NETGEAR, and Crucial/Lexar.
Customers can directly contact team personnel to receive in-depth CyberPower product information, installation advice, sales strategies and technical guidance to support power protection sales.
The D&H Solutions Lab is designed to provide resellers personal, one-on-one consultation with industry experts. In addition, D&H?s vendor partners have offered exclusive content to support the efforts of the Solution Specialist Team.
D&H customers can learn more about CyberPower power protection and distribution solutions by connecting with the Solutions Specialists via dandh.com by clicking the ?D&H Specialist Team? link in the left-hand margin. Visitors can then navigate to the CyberPower links or categorical team of their choice.
About CyberPower Systems:

CyberPower?s provides industry-leading power protection products for enterprise, corporate, government, education, small office/home office customers that rely on quality power protection, power distribution and virtualization products. At company-owned facilities, CyberPower designs and manufactures uninterruptible power supply (UPS) systems, power distribution units (PDU), remote management hardware, power management software, surge protectors, mobile chargers and connectivity products engineered for demanding performance and to exceed international safety and environmental standards. CyberPower products are available through authorized distributors and are sold by value-added resellers (VARs), system integrators, managed service providers (MSPs), prominent e-tailers and at select retail stores. CyberPower sells and delivers products through offices and distribution centers located in North and South America, EMEA, and Asia Pacific regions. Learn more at CyberPower's website.
About D&H Distributing:

As the nation?s leading technology distributor, D&H provides a wealth of resources to empower solution providers and consultants, delivering a broad selection of SMB categories, products and applications. The company?s offerings span server and infrastructure, SOHO and mobile applications, consumer electronics and gaming. D&H?s multi-market expertise, account-dedicated sales teams, sterling service and flexible financing options are unmatched in the industry.
With an impressive 96-year history serving as a trusted advisor to the reseller channel, D&H has been able to consistently reinvent itself based upon changing market conditions. The company prides itself on creating business partnerships with an astute focus on ease-of-doing-business, relationships, value, performance and service.
D&H has been named Cisco?s Worldwide Small Business Distributor of the Year, won the Microsoft Licensing Operational Excellence Award seven years running and has been named Microsoft?s OEM Distributor of the Year. The company ships out of five separate locations in North America, including its US headquarters in Harrisburg and its Canadian headquarters in Brampton, Ontario. For more information, visit http://www.dandh.com.
2014 CyberPower Systems, Inc. All rights reserved. All other trademarks are property of their respective owners.
###
Tagged with: CyberPower • D&Hs • Distributing • Partners • Power • program • Protection • solutions • Systems • Vendor
Filed under: Home Finances Software
Like this post? Subscribe to my RSS feed and get loads more!