Economic Impact Rating, Amerimerch.com #ImpactSnap Social Media Campaign in Hands of Consumer
Sunday, July 27th, 2014 at 9:59 am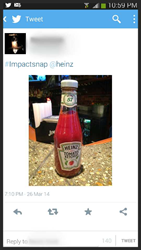 Manchester, New Hampshire (PRWEB) March 28, 2014
A start-up company that educates consumers about the economic impact of their purchases is offering a $ 250 gift certificate giveaway for their #ImpactSnap campaign. The Economic Impact Rating campaign brings the consumers into the discussion via social media in hopes that business will become aware of the rating through word of mouth and consumer demand.
An #ImpactSnap is a tweet or Facebook post of a product that the consumer would like to see rated. ?The consumer is at the helm of the campaign,? says Anthony Comito, founder and CEO of the Economic Information Exchange Company?creators of the Economic Impact Rating system. ?If enough consumers ask for a specific product to be rated, a business may find they're missing out on a great opportunity to tell their story in a new way that consumers really care about."
The Economic Impact Rating system is based on their patented form of ?origin costing?. The rating gauges how much economic impact an individual product has through labor used to make the product, tax contributions, charitable donations and other inputs. Instead of rewarding businesses that sell products at the cheapest price with outsourced labor and cut-rate resources, EIR quantifies the value of the product to the community.
How it works: The campaign was created with a focus on simplicity. ?People are busy,? Comito adds. ?We knew the process would have to be streamlined and provide incentive in order to be effective.?
1.????The consumer takes a photograph on their smartphone or other device of a product they want to see rated

2.????The picture is tagged #ImpactSnap and the caption includes the name of the business that makes the product

3.????By completing steps 1 and 2 user is automatically entered into a raffle to win a $ 250 gift certificate to EIR?s affiliate, Amerimerch.com
Example of Twitter/Facebook #ImpactSnap: [Photo of a can of Coca-Cola] #ImpactSnap What?s the impact @Coca-Cola?
The United States is in the midst of a ?Manufacturing Renaissance? that includes a massive reshoring effort by companies looking to prosper from their image as a purveyor of jobs. 80% of consumers are willing to pay 10% or more for domestic or local products, according to a study by the Boston Consulting Group. ?These reports show consumers want to support local economies with informed purchases,? adds Comito. ?With the right information, we can support both the consumer and those businesses that wish to add jobs and contribute cash-flows to local economies.?
Entry to the promotion will be open until 12:01am (PST) on 05/01. The winner of the raffle will be announced 05/02. Consumers that are not linked in on social media can still get involved via email at http://woobox.com/dj35fg.
The Economic Impact Rating's goal is to help businesses show their economic impact, by giving consumers the information they need to support businesses that strive to create jobs, contribute taxes and capture cash flows in the community. The rating is a patented, third-party mark placed on packaging, websites or marketing material showing consumers, on a 5-star scale, how much of a product's price-tag is being captured in an area. For more information, follow them on Twitter @EconImpact or on Facebook.
About Amerimerch.com: Founders Allen and Kania are implementing new ways for the online community to participate and act as a voice for the companies that they believe in. The objective of amerimerch.com is to grow companies, marketplaces, jobs and create a new industry standard for finding quality American products. Find out more on their website at http://www.amerimerch.com. Find them on Twitter @amerimerch or on Facebook at https://www.facebook.com/amerimerch?fref=ts.
Find More Cashflow Press Releases
Tagged with: #ImpactSnap • Amerimerch.com • Campaign • Consumer • Economic • Hands • impact • media • Rating • Social
Filed under: Cashflow
Like this post? Subscribe to my RSS feed and get loads more!