Seller Finance Strategies a Secure Way to Invest in Property in Any Market Condition, Reveals Rick Otton
Monday, June 9th, 2014 at 9:52 am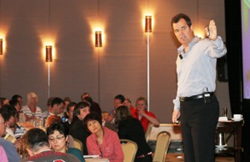 (PRWEB) March 17, 2014
The Royal Institute of Chartered Surveyors (RICS) revealed that demand for UK real estate has eased this February 2014, (Financialnews.co.uk reported on 13 March 2014).

RICS explained that adverse weather conditions and low supply contributed to this slow down.
?Property investors and home buyers shouldn?t worry about a market slow down, since this is all part of the fluctuating cycle of the property market. However, in order to stay afloat even after an up cycle, home buyers must enter the property market with a flexible strategy that could help them get in and out properties during different growth cycles,? according to Rick Otton, the host of the highly anticipated Zero Debt Property Cashflow Bootcamp.
?For example, in a rising market like in the U.K., seller financing strategies are a good way to buy property for sale while house prices are continuously going up, because it can help anyone get a house without taking out a new mortgage or even wait a few years just to save up enough cash. This is crucial for rising markets, since average salaries can?t always keep up with the growth rate of house prices,? he explained.
Mr. Otton also revealed in a recent interview for his Zero Debt Property Cashflow Bootcamp that having little capital shouldn?t prevent U.K. investors from investing and growing their property portfolio.
?People have just been trapped with the mindset that you need a lot of money to buy and sell houses, since we?ve been raised with the idea that there?s only one way to do these things. What they don?t realize is that there is more than one way to solve property problems, but these alternative strategies can only work once people start thinking creatively,? commented Mr. Otton.
For more info on how to grow your property portfolio using seller finance, you may reserve your seat to Rick Otton?s Zero Debt Property Cashflow Bootcamp on 21-23 March 2014 by logging in to http://rickotton.co.uk/conference/.
About Rick Otton
Rick Otton is a property investment professional who, over the last 23 years, has introduced innovative real estate strategies to the UK, Australian and the United States. His creative ?low-risk, high-reward? approach to buying and selling houses is exemplified in his own business, We Buy Houses.
This year marks the 10 year anniversary of Mr Otton introducing his strategies to the UK, and the 5 year anniversary of his innovative ?Buy A House For A Pound? process ? one that attempted to be emulated by others. His constant process of strategy refinement, and adapting to the ever-changing real estate market, continues to place him at the forefront of property investment education.
In 2012 Rick Otton published his Australian book ?How To Buy A House For A Dollar? which was named in the list of Top 10 Most Popular Finance Titles for 2013. A UK version is on the drawing board for publication in 2014.
Mr Otton freely shares insights into his non-bank-loan strategies that have allowed everyday UK men and women to beat the rental cycle and have their own homes. He coaches others on how to build profitable businesses by facilitating transactions that focus on the needs of potential buyers and motivated sellers.
Access his free downloadable Power Property Profits Pack at RickOtton.co.uk, as are the details of early bird pricing for his next UK 3-day real estate training conference in March 2014. Phone enquiries in the UK are welcome on 0207 000 1027.
Tagged with: Condition • finance • Invest • market • Otton • property • Reveals • Rick • Secure • Seller • Strategies
Filed under: Cashflow
Like this post? Subscribe to my RSS feed and get loads more!