PaySimple? Announces New Product Enhancements at Finovate Fall 2012
Wednesday, June 25th, 2014 at 9:51 am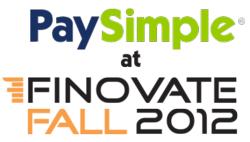 Denver, CO (PRWEB) September 13, 2012
PaySimple, the leading provider of cloud-based automated receivables solutions for small businesses, today premiered new product features to enable small and midsize business users to optimize their cash flow position and their social media presence.
PaySimple?s CEO, Eric Remer, offered a first-look and demonstration of these product upgrades in New York at the FinovateFall conference, the premier event showcasing the leading technology innovations in the financial services and banking sectors. The new features were built in response to client requests.
With this product release, PaySimple offers users new tools to fuel their marketing and financial objectives. On the marketing front, users now have the ability to highlight their social media pages on outgoing customer invoices created, distributed, and paid online through the cloud-based software product. PaySimple also now allows clients to offer customers discounts for early payments and penalties for late payments on invoices ? a feature that further enhances a business?s cash flow automation capabilities using the software.
?It?s exciting for us to receive and respond to product requests like these that come directly from our users,? said Eric Remer, CEO of PaySimple. ?Our active users are in the best position to recommend new ways that we can support their key business initiatives, and we?re delighted to enhance the marketing and cash-flow benefits of our software solutions to help achieve their goals.?
These system upgrades are rolling out to PaySimple?s client base shortly after the conference.
PaySimple makes big-business efficiencies available to small businesses at a fraction of the cost through cloud-based solutions that simplify and empower small business management. Thousands of small to mid-sized businesses use PaySimple?s invoicing and receivables technology to manage their customers, automate billing, simplify recurring payments, and accept electronic payments, including echecks, ACH, direct debit, and credit cards. To learn more about PaySimple, its automated solutions and partnership opportunities, call 800-466-0992 or PaySimple.com. Find PaySimple on Twitter and Facebook.
FinovateFall is a demo-based conference for innovative startups and established companies in the fields of banking and financial technology. Held in New York City, the event offers an insight-packed glimpse of the future of money via a fast-paced, intimate and unique format. FinovateFall is organized by The Finovate Group. For more information on the event or to view videos of previous demos, please visit http://www.finovate.com/fall2012/.
More Cashflow Software Press Releases
Tagged with: • 2012 • Announces • Enhancements • Fall • Finovate • product
Filed under: Cashflow Software
Like this post? Subscribe to my RSS feed and get loads more!