John Graham, Inc. Gives Away a House
Monday, June 23rd, 2014 at 9:51 am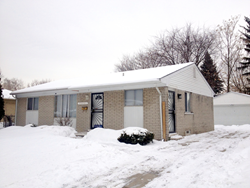 Detroit, MI (PRWEB) March 18, 2014
John Graham Inc., announced on its blog last week a hefty prize-winning opportunity: a house. The investment and property management company plans on attending the Investor Forum in Toronto March 22nd and 23rd and offering attendees the chance to win one of its investment properties located in Inkster, Michigan.
Those attending the forum can listen to the company?s presentation about the benefits of investing in U.S. property and are then asked to fill out a short survey. They can then bring the survey to the company?s booth for a chance to crack a safe that holds the keys to the house.
?We felt like this would be a great incentive for those who have been considering investing in real estate, but weren?t certain how to get started,? said Vanessa Smith, Marketing Director. ?A free house makes it easy to get started?it?s practically an immediate cash-flow for the winner.?
The house is a 3 bedroom ranch with 1.5 bathrooms, totaling just over 1,500 square feet. The home has been updated, including an open layout in the kitchen, updates in the bathroom, and fresh paint throughout.
John Graham, Inc. can expect a 12% return on investment, should they continue to rent the property out. Having already gone through and passed city inspections, the house is already occupied and generating profit.
John Graham, Inc. is a Michigan based company that services both buyers and sellers. John Graham, Inc. specializes in the marketing, listing and selling of new homes, condominiums, undeveloped land, and commercial and investment opportunities. John Graham is redefining real estate through innovation, integrity and partnership. For more information, please call (586) 739-2900 or visit http://www.johngrahaminc.com.
Find More Cashflow Press Releases
Tagged with: Away • Gives • Graham • house • Inc. • John
Filed under: Cashflow
Like this post? Subscribe to my RSS feed and get loads more!