The Rich Dad Company and Robert Kiyosaki Offer Answers to Beat Resolution Failures
Saturday, March 15th, 2014 at 9:53 am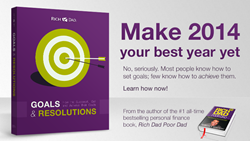 (PRWEB) January 07, 2014
?People need to accomplish their dreams, but they don?t know how,? states Robert Kiyosaki, founder of the financial education company, RichDad.com. ?To make it worse, they?ve focused on the ?how? when success is found in the ?why.??
On New Year?s Day 1985, Robert sat down with his wife and partner, Kim, and defined their goals to become financially free. In the process, they had to confront their fears and self-doubt, but you can see today what they were able to accomplish from this simple yet life-changing activity over 18 years ago.
Today, Robert Kiyosaki?s The Rich Dad Company, announced the release of his financial education eProgram, ?Goals and Resolutions: How the Successful Set and Achieve their Goals.? The eProgram is free to anyone registering at http://www.richdad.com, now through February 7, 2014.
?By January 7th, one week after everyone has made their New Year?s Resolution, over 75% of people have failed,? states Bob Molle, author of Get Comfortable Being Uncomfortable. After hearing this, financial education expert and 2014 Most Popular Personal Finance Expert, Robert Kiyosaki, wanted to share his insights to help people actually reach their goals and be winners.
By registering for the free Rich Dad Community, anyone can access the limited-edition eProgram and:


????Discover what makes a person successful (Hint ? It?s not talent, charisma or money),
????Learn the three components to accomplishing a goal and why New Year?s Resolutions fail, and
????Find out how to overcome six, key obstacles to start winning immediately and more!
In addition to receiving the eProgram, all members joining the free Rich Dad Community by filling out the simple registration at http://www.richdad.com can:

????Listen to Robert Kiyosaki?s The Rich Dad Radio Show online at any time with ne shows????every week,
????Have fun playing CASHFLOW ? Classic, The Online Financial Education Game, and
????Get exclusive insights via Rich Dad?s monthly, eNewsletter packed with content related to investing, finance, small business ideas, and more.
?According to a recent study by the ?University of Scranton: Journal of Clinical Psychology? quoted on StatisticsBrain.com, only 8% of people are successful in achieving their resolution,? says Kiyosaki. ?Instead of losing, learn the ?why? of your goals and start making positive changes happen now.?
To enjoy these benefits and exclusive access to the eProgram from Robert Kiyosaki, become a member of the free Rich Dad financial education community at

http://www.richdad.com by 2/7/14.
About The Rich Dad Company
The Rich Dad Company was founded in 1997 and is based on Robert Kiyosaki's international bestseller and #1 personal finance book of all time, Rich Dad Poor Dad. Today, Robert, Kim Kiyosaki (author of Rich Woman and It?s Rising Time!), and their team of advisors, strive to transform lives through financial education. Using innovative technology, The Rich Dad Company offers a new way to think about money. Content is delivered via mobile apps, live-stream global events, social media, books, seminars, videos, the CASHFLOW ? board and online games, free online content, and much more. Tune in to hear The Rich Dad Radio Show with Robert Kiyosaki, exposing "The good news and the bad news about money," every Wednesday at http://www.RichDadRadio.com. Visit http://www.richdad.com or call us at 800-308-3585 (480-998-6971 outside of the U.S.) to begin your journey to financial freedom.

# # #

Media Contact: Mona Gambetta, mgambetta@platapublishing.com
Find More Cashflow Press Releases
Tagged with: Answers • beat • Company • Failures • Kiyosaki • Offer • Resolution • Rich • Robert
Filed under: Cashflow
Like this post? Subscribe to my RSS feed and get loads more!