Rick Otton To Share Seller Finance Strategies to Victorian Residents During The ?Ready, Set, Boom? National Tour
Monday, March 31st, 2014 at 9:52 am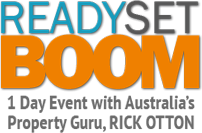 (PRWEB) February 10, 2014
The Masters Building Association revealed that planning and building regulations are adding $ 15,000 to the price of new homes in Victoria, The Herald Sun reported on 24 January 2014.
The association claims that these additional costs and other government charges are being imposed on contractors, who then pass the costs onto the buyers.
?Buying and selling houses under the traditional process not only means paying for the required cash deposit, but also additional costs like stamp duty and related taxes. So most of the time, people take years just to save up enough cash to pay for the deposit and additional costs,? commented Rick Otton, a 14 year veteran in Australia?s real estate education scene.
?Now that prices and additional costs of Australian real estate are shooting through the roof, it?s no longer a surprise that a lot of people are choosing to abandon or postpone their dreams of becoming home owners,? he added.
In one of his latest interviews, however, Mr. Otton said that no matter how expensive homes have become around Victoria, Aussies should still pursue their dream of ownership of real estate Australia because there are alternative ways to buy and sell houses in the country.
?Cash strapped home buyers can rely on creative strategies to help them buy property without outlaying large amounts of their own money. This is done through flexible payment terms. Instead of paying all of the money up-front, a seller can agree to take the payments in instalments. This way, the buyer won?t be burdened by the high cost of entry, and the seller reaches their desired price. On the other hand, flexible terms are convenient for sellers because they don?t only get the price they want, they are also able to sell and create positive cashflow much more quickly,? according to Mr. Otton.
Mr. Otton also emphasised how this set up benefits property investors.
?Not all investors are cash rich. But through seller finance, investors can now build their portfolios more efficiently. And because seller finance makes it easier to sell, it allows investors to profit from their investment property immediately? he added.
Visit http://readysetboom.com.au/ to secure a free seat to the Victoria leg of Rick Otton?s National tour Ready, Set, Boom.
About Rick Otton
For over 23 years property millionaire Rick Otton has built an impressive real estate portfolio using innovative strategies that he has developed ? strategies in which transactions are made without the need for traditional bank-type loans.
He constantly refines his techniques as he buys and sells properties through his We Buy Houses business which operates in Australia, New Zealand and the UK.
A gifted speaker and educator, Mr Otton conducts regular one-day free seminars across Australia, which build on the the concepts he shares in his 2012 book ?How To Buy A House For A Dollar?, voted by Money Magazine and Dymocks Book stores as one of the Top 10 Most Popular Finance Titles for 2013.
He regularly records and publishes iTunes podcasts via his channel Creative Real Estate.
His innovative low-risk, high-reward approach to Australian real estate investing has been featured in a variety of television programs and magazines, including Today Tonight, Hot Property and Australian Property Investor.
To register for one of Mr Otton?s free Australian one day seminars visit ReadySetBoom.com.au or phone, in Australia, 1300 888 450.
Tagged with: Boom • During • finance • National • Otton • Ready • Residents • Rick • Seller • share • Strategies • Tour • Victorian
Filed under: Cashflow
Like this post? Subscribe to my RSS feed and get loads more!