Gowrie Group Sponsors 2014 US Sailing Leadership Forum in San Diego, California
Sunday, March 16th, 2014 at 9:53 am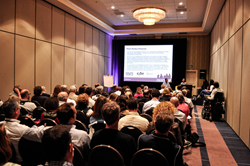 Westbrook, CT (PRWEB) March 13, 2014
Gowrie Group is proud to have been a lead sponsor of the 2014 US Sailing Leadership Forum. This incredible forum brought together 600 leaders from 350 clubs/organizations to share ideas and best practices on growing the sport of sailing, scaling and expanding the reach of community sailing programs, and strengthening the infrastructure of sailing clubs. ?This innovative event enabled leaders from all aspects of the sport of sailing to brainstorm and work together to address the common issues that sailing clubs and community programs across the country are all facing," said Whitney Peterson, Gowrie Group's VP Marketing.
As US Sailing's insurance partner and the managers of the Burgee Insurance Program, Gowrie Group is proud to insure almost 1,000 sailing organizations nationwide, including nearly half of the clubs and community programs that attended the 2014 US Sailing Leadership Forum.????
Copies of all of the presentations and materials from the forum are hosted online by US Sailing for clubs and community programs to use as resources. Gowrie team members were panelist for the following sessions:

????Club Insurance Is Like Gybing – Think Ahead
????Lawyers, Nuns, Money – OSHA and USCG
????Regatta Safety
????Financial Benchmarking & Yacht Club Data
????Pitch Perfect – Sponsorship
The Burgee Program is the only comprehensive insurance program developed to meet the unique needs of yacht clubs, community sailing programs, schools, and associations. The program is endorsed by US Sailing, underwritten by Chubb, and managed by the marine insurance experts at Gowrie Group.
More Money Management Press Releases
Tagged with: 2014 • California • Diego • forum • Gowrie • Group • Leadership • Sailing • Sponsors
Filed under: Money Management
Like this post? Subscribe to my RSS feed and get loads more!