Found Animals, PetSmart Charities? to Host North American Spay Neuter Conference
Thursday, February 6th, 2014 at 10:03 am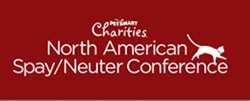 Los Angeles, CA (PRWEB) February 05, 2014
Found Animals and PetSmart Charities will host North America?s largest spay and neuter conference August 14-17, 2014 at the Renaissance Austin Hotel in Austin, Texas.
The event is expected to attract nearly 800 animal care professionals from the United States and Canada, including administrators, technicians and veterinarians. Spay and neuter continues to be the most effective form of birth control for cats and dogs, and is critical to reducing shelter intake and ultimately euthanasia. However, several factors contribute to the inability to maximize spay and neuter resources, including public misconceptions, limited access to low-cost clinics and overall high costs. The topic is especially timely as February marks Spay/Neuter Awareness Month.
Programming at the conference will address these issues and aim to educate attendees on best practices which help prevent unwanted litters. Each year, about 2.7 million healthy, adoptable cats and dogs are put down in shelters, a majority of which are dogs and cats under the age of 18 months.
?Spay and neuter is an important pillar of Found Animals, and thanks to our partnership with PetSmart Charities, we are able to present a forum for continuing education amongst animal care professionals,? said Aimee Gilbreath, executive director of Found Animals. ?Found Animals and PetSmart Charities continue to be strong supporters of low-cost spay and neuter surgeries because it remains the most effective form of birth control for cats and dogs.?
The event will feature several educational sessions in operations as well as two veterinary tracks. One of the most unique parts of the conference will be an off-site veterinary wet lab, where veterinarians interested in learning about pediatric spay and neuter procedures will learn to perform live surgeries on adoptable pets. The organizing committee has worked in consultation with the Association of Shelter Veterinarians to ensure that all health and operational protocols for the animals are followed.
?PetSmart Charities is honored to be the presenting sponsor of the North American Spay Neuter Conference,? said Aaron Asmus, field program manager, PetSmart Charities, Inc. ?We view spay/neuter initiatives as a means of turning off the spigot of the homeless pet overpopulation problem. This is a great opportunity to work with the Found Animals Foundation and other animal welfare professionals to make a difference in the lives of homeless pets.?
Organizers say that the reason Austin was chosen for the conference is because the city is an example of how to effectively manage spay/neuter programs. Found Animals Foundation is hosting and organizing the North American Spay Neuter Conference with PetSmart Charities serving as the title sponsor and developer of the educational tracks.

For more information on registration, hotel accommodations, or sponsorship opportunities, visit http://www.spayneuterconference.com.
About Found Animals

Found Animals is an independently funded nonprofit that works to achieve one goal ? find the big ideas that help reduce the number of pets euthanized in shelters each year. Found Animals works directly within the animal welfare community to reduce the use of euthanasia in shelters by developing innovative programs including: Adopt & Shop, the Found Animals Registry, and Michelson Prize & Grants, along with, subsidizing low-cost spay and neuter surgeries in underserved areas. Support for Found Animals and its initiatives come from the generous contributions of Dr. Gary Michelson and Alya Michelson. For more information on Found Animals and its programs, please visit http://www.FoundAnimals.org, or connect with us online at Facebook or Twitter.
About PetSmart Charities

PetSmart Charities, Inc. is a nonprofit animal welfare organization that saves the lives of homeless pets. More than 400,000 dogs and cats find homes each year through our adoption program in all PetSmart? stores and our sponsored adoption events. PetSmart Charities grants more money to directly help pets in need than any other animal welfare group in North America, with a focus on funding spay/neuter services that help communities solve pet overpopulation. PetSmart Charities is a 501(c)(3) organization, separate from PetSmart, Inc.
Tagged with: American • Animals • Charities • Conference • Found • Host • Neuter • North • PetSmart • Spay
Filed under: Money Management
Like this post? Subscribe to my RSS feed and get loads more!