Sensaphone Demonstrates Latest Remote Temperature Monitoring Solutions at 2014 AHR Expo
Friday, January 24th, 2014 at 9:54 am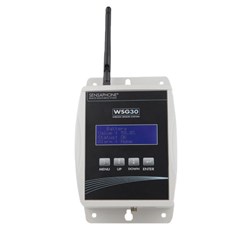 Aston, PA (PRWEB) January 20, 2014
Sensaphone? today announced that it will showcase an expanded remote monitoring solutions portfolio at the largest International air-conditioning, heating and refrigeration exposition ? 2014 AHR Expo, January 21-23, New York, NY at Booth 7263.
Highlighted at AHR will be the Sensaphone WSG30, a web-based temperature monitoring solution with up to 30 wireless sensors and internal battery backup. The WGS30 is Sensaphone?s newest wireless sensor gateway for web-based monitoring. As a standalone system, it can monitor a variety of temperature conditions from the wireless sensors and directly notify the appropriate personnel by sending e-mails and text messages. The WSG30 can also be used within an existing industrial automation system and communicate directly with existing HMI software.
?Our WGS30 offers a simple temperature monitoring in a convenient small form factor,? explained Bob Douglass, Vice President of Corporate Development at Sensaphone. ?We are proud to offer this advanced technology along with our full portfolio of remote monitoring solutions to the HVACR marketplace and look forward to continuing our strong partnerships with the members of AHR.?
Sensaphone will also demonstrate its WEB600 for low cost temperature monitoring solutions. The Web600 can use temperature sensors, contact closures, or transducers to provide continuous monitoring and reporting for up to six temperature sensors. The device offers simple web based programming and the reporting includes data logging.
For those requiring critical temperature monitoring, Sensaphone will showcase its IMS series including the IMS-1000 and the IMS-4000. The IMS-series provides monitoring for a full range of environmental conditions and combines environmental monitoring, physical security and data logging into a single system.
Sensaphone will also show a complete line of remote monitoring products that will fit any application and budget including the Model 400, Model 800, Model 1400, Model 2800, and SCADA 3000 as well as a wide variety of temperature sensors.
"We are committed to providing industry-leading and cost-effective remote monitoring solutions across a many applications," noted Douglass. ?Sensaphone?s products are designed and manufactured in the USA and offer customers the best set of features and functionality that will fit any need or budget.?
Availability
Over 350,000 Sensaphone systems are in use today around the world with superior customer satisfaction. Contact Sensaphone for the right solution and for pricing: Call us toll free at 877-373-2700 or email us at sales(at)sensaphone(dot)com.
About Sensaphone
Sensaphone? offers a comprehensive line of feature-rich and flexible remote monitoring products that enable customers to safeguard their property, and manage and report critical environmental data. Sensaphone products provide actionable monitoring information to customers in telecommunications, oil and gas, water and wastewater, HVAC and refrigeration, agriculture, greenhouses, science and health labs, network data centers and homes. Sensaphone stands at the forefront of remote monitor and control solution design, setting industry standards for advancements in technology while helping protect our customers? assets and infrastructure. Visit Sensaphone at http://www.sensaphone.com
Tagged with: 2014 • Demonstrates • Expo • Latest • Monitoring • Remote • Sensaphone • solutions • Temperature
Filed under: Budgeting Software
Like this post? Subscribe to my RSS feed and get loads more!